Special Offer
Company Wide: Sales, Offers and Coupons
Sweeneys Poison Peanuts Special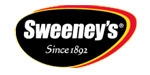 Sweeneys Poison Peanuts are only $5.25 this month - stop in!
Keep your yard free of burrowing critters, like moles and gophers. Easy to use pellets attract and kill moles and gophers. Unique formula is palatable and cleverly designed container makes it easy to apply.
5062406006
Not valid with any other discounts or sales.
Valid:

3/01/2019

at 12:00 am
-

4/30/2019

at 11:59 pm
Offered by Valley Ag Farm & Garden